Are you going to Hangout Music Festival in 2020? Well how much does it cost?
It's almost that time of the year again. Hangout music festival is right around the corner.
Travel Costs
Attending a music festival is a fun endeavor that requires planning, though and cash. But it is well worth the effort if you ask many attendees of previous festivals.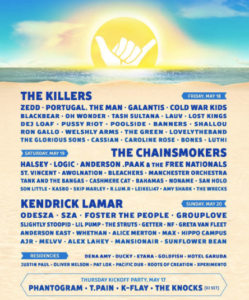 One of the first things you do when attending a festival is plan out your budget. You boss has approved the time off request and your friends have agreed to go. How much are you going to spend on this weekend of fun? You are going to spend more than you normally would on this weekend of entertainment. You are going to be most likely traveling as well so you would spen close to what you would on a vacation but not quite as much possibly. I guess it depends on how often you go a vacation per year and what you are planning to spend on vacations for the year. If you have a couple of weddings to attend this year you may spend conservatively. One of the largest expenses for any festival is getting there. This can easily change depending on distance and method of travel. We are assuming that the average attendee is flying on a average airline an average distance…lol.
| | |
| --- | --- |
|  Festival Item |  Price |
|  Ticket Price |  $360.00 |
|  Plane ticket |  $379.00 |
|  Hotel |  $210.00 |
|  Food |  $150.00 |
|  Drinks |  $100.00 |
|  Miscellaneous Items |  $50.00 |
|  Festival Outfit |  $60.00 |
|  Party Supplies |  $60.00 |
|  Lyft |  $50.00 |
|  Total Cost | $1,419.00 |
Lodging and Hotel Costs
Everyone's costs will be different for all the categories listed and we want everyone to understand that this is an approximation of associated costs for attending this particular festival. Some things to keep in mind about the Hangout festival is that there is no camping, it's on a beach in Alabama during the summer and all ages are allowed. The second largest cost associated with attending a music festival is lodging. Most of the time a camping festival is a bit less expensive since you generally drive thate and sleep in a tent vs flying and staying in a hotel or airbnb. Also you may cook most of your meals with your camping mates as that is all part of the experience.
Costs for Meal and Eating Out
You can't camp at Hangout and accommodations with a full kitchen can be a bit pricey unless you are splitting the cost with friends. So eating out is very likely for Hangout attendees. We budgeted about $150 for food only which comes about to approx $50.00 per day.  Accommodations were estimated at $$210.00 for 3 nights. The Hangout Festival's website includes listings of accommodations that were as low as $50 per night. We wouldn't expect to get those prices unless you booked early at least 8 – 10 months ahead of time.
What You Will Spend On Hangout Music Festival Ticket Prices
There are a few different ticket types available for Hangout. They include the standard general admission for $360.00 which we are estimating for since that is the most common ticket type. If you live in Gulf Shores or have cheap accomodations then you may be interested in the kickoff party which is an additional $55.00. This will push the cost to attend Hangout up a bit since you would be staying an extra night. This seems to be a common trend among festivals, offering an early start with a pre-party.
If you want to up the amenities you can always opt for a VIP ticket starting at a $1,099 or go Super VIP for $1,699 both of which include less crowded viewing areas, pools, VIP lounges, free drinks and super deluxe bathrooms with A/C. If you get the super VIP the additional amenities include: a dining room featuring gourmet meals prepared by award-winning chefs including Jeremy Ford, Cory Bahr, Jim Smith and Wesley True, Hot tubs, a private beach and golf carts shuttling you between stages. There are VIP levels above these that you would have to contact Hangout to actually setup. We assume that only celebrity guests would even consider such a thing.
Transportation Costs
There is a shuttle pass available for $50.00 which will get you to the festival from any of the hotels that are located on Gulf Shores. This is a convenient option for all festival goers as Lyft and Uber prices surge during big events. The shuttle also runs constantly not requiring any planning or though on your part just wait at the stop when you are ready. No more slamming your beer once the Lyft arrives just pre game and go.
Food And Drink Costs
For this category we have $250 budgeted out.
101 E Beach Blvd.
Gulf Shores, AL 36542 United States