Austin City Limits is a huge festival that takes place in the heart of downtown Austin. It's an all ages festival that spans over two weekends. The line-up includes every genre of music from EDM, Rock, Pop, Hip-Hop and more. Headliners and unknowns.
Zilker Park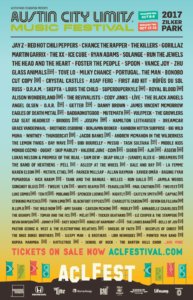 Then venue where it takes place is known as Zilker Park located in S. Austin. Zilker park itself is pretty large at approximately 350 acres. ACL doesn't take place in the entire park but is fairly spread out with multiple stages and restaurant vendors. ACL is put on by C3, the same production company that puts on Lolapalooza. This is Austins other festival. Most in the tech world think of SXSW. ACL has a certain commercial feel to it. There was a Honda stage with an actual Honda Civic and numerous merchandise booth. Some even call ACL the Lolapalooza of the south or South By Cochella. It's one of the few festivals that expanded to two weekends and sustained the expansion.
In a side note it also seems that there is a relationship with the city of Austin to the point where the code enforcement folks drive around and patrol the street for vendors shutting them down after a certain time. One thing I have noticed about Austin is that it is not as business friendly as one would assume especially being a tech hub. In fact businesses that have been open for over ten years are shutting their door due to rising rents, taxes and dwindling hospitality labor pool.
Back to ACL…the Line up included many artists but really for us it was a Run The Jewels concert with a bunch of decent openers, Like Gorillaz, Tove Lo, Solange and Alison Wonderland.
Austin City Limits
ACL is a festival worth checking out. It is well put together as the organizers spend months weeks putting it together. The stages and production are as you would expect from an established festival organizer like C3. There are plenty of areas to stretch out and sit with your group or fam. Food is plenty and abound. You can also easily get a ticket for below face value on the sidewalk of Barton Springs Rd. Not sure if the shooting event in Vegas prior to ACL had an effect on the turnout but there was less traffic this year along Barton Springs. Maybe one of three 3 entrances to ACL…Lady Bird Lake entrance, the Barton Springs East entrance or the Barton Springs West entrance thinned the crowd of people. Altogether there are 8 stages all of which sport the names of brands, and approximately 75,000 people attend each day.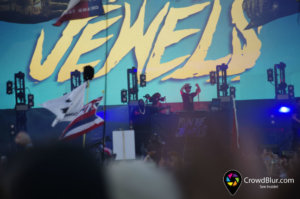 The highlight of our ACL experience included the intro for the Gorillaz, and the performance by Run the Jewels, the duo Killer Mike and El-P. Killer Mke is best know for the feature on Outkast's Whole World singles. He has a deep griitty voice with a southern presence…He released R.A.P Music in 2013 which was produced by the second half of the group El-P. Together they bounce off each other for a deep and balance stage presence. My personal favorite of Killer Mike is the song he did with Big Boi Kryptonite….That's my fucking jam. Also check him out on Vice's Noisy Atlanta.
I'm not trying to leave out El-P lyrically he is dope and before Run The Jewels he never crossed my radar even though he was the producer of Aesop Rock. E-Producto and Killer Mike met in 2011 on the set of Adult Swim and dropped Run The Jewels in 2013. They were nominated for a Grammy in 2018 for Best Rap Song. El-P has also produced for Jedi Mind Tricks, Del Tha Funkee Homosapien. He produced the soundtrack for Bomb The System…if you don't know what that is Google it and watch.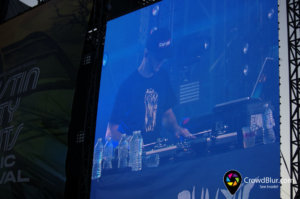 Born in 1975 in New York city El-P was immersed in the spawning of Hip Hop culture where it started. His influenced and the music he creates is sometimes labeled alternative, while some of us consider mumble-rap the alternative.
Anyway ACL from what we saw of it was dope. If you have kids I recommend going early during the day and if you avoid kids I would recommend getting there later of course in line with what ever acts your trying to catch. It's spread out so you can set up a blanket and chill or you can dance in the crowd. Zilker Park has a lot of places to duck off so explore. They have your run of the mill festival food. Obviously we recommend avoiding that shit. Well maybe some cotton candy or a funnel cake but don' rely on it for subsistence. I personally prefer the city wide scavenger hunt of SXSW for good shows during the music portion. But ACL provide a decent all in one festival experience.
Check out the 2017 lineup below.
Jay Z
Red Hot Chili Peppers
Chance the Rapper
The Killers
Run the Jewels
Gorillaz
Martin Garrix
The xx
Ice Cube
Ryan Adams
Solange
The Head and the Heart
Foster the People
Spoon
Vance Joy
Zhu
Glass Animals
Tove Lo
Milky Chance
Portugal, the Man
Bonobo
Cut Copy
Cyrstal Castles
A$AP Ferg
First Aid Kit
Rufus du Sol
Russ
D.R.A.M.
Skepta
Louis the Child
Superduperkyle
Royal Blood
Alison Wonderland
The Revivalists
Cody Jinks
Live
The Black Angels
Angel Olsen
O.A.R.
Getter
Danny Brown
James Vincent McMorrow
Eagles of Death Metal
Badbadnotgood
Mutemath
Vulfpeck
The Growlers
Car Seat Headrest
Broods
Joseph
Hamilton Leithauser
Dreamcar
Grace Vanderwaal
Brothers Osborne
Benajmin Booker
Rainbow Kitten Surprise
Big Wild
Muna
Whitney
Thundercat
Jacob Banks
Andrew McMahon in the Wilderness
The Lemon Twigs
Day Wave
Bibi Bourelly
Missio
Tash Sultana
Middle Kids
Mondo Cozmo
Ought
Skip Marley
Valerie June
Coin
Sigrid
AJR
Asgeir
Lukas Nelson and Promise of the Real
Sam Dew
Deap Vally
(Sandy) Alex G
Dreamers
The Band of Heathens
Pell
Asleep at the Wheel
Dale and Ray
La Femme
Karen Elson
Methyl Ethel
Parker Millsap
Allan Rayman
Xavier Omar
Ragin Fyah
Pumarosa
Nick Hakim
Tank and the Bangas
Welles
Ron Gallo
Jamilia Woods
Songhoy Blues
Twelve 'Len
White Reaper
Traveller
Paul Cauthen
Two Feet
Luke Combs
Ten Fe
Midland
Spencer Ludwig
Nightly
Caitlyn Smith
Capyac
Striking Mathces
Twin Limb
Blackfoot Gypsies
Charlotte Cardin
Devon Gilfillian
R.LUM.R
The Wild Now
Amy Shark
Carson Mchone
Mobley
Annabelle Chairlegs
The Bishops
Tomar and the Fcs
Melat
Tucker Beathard
Liz Cooper and the Stampede
Devin Dawson
Jonny P
Okey Dokey
Kings of Harmony
The Lands Band
Bells of Joy
Pastor Cedric B. West and The Electrifying Relatives
Shields of Faith
Disciples of Christ
The Okee Dokee Brothers
Sleepy Man
Q Brothers
Lori Henriques
Pointed Man Band
Kupira Marimba
Rattletree
School of Rock
The Barton Hills Choir