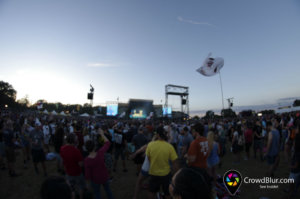 We all know that when large crowds descend into a particular area there is a chance that cell towers will be overloaded and things stop working as intended. The good news is that you can easily overcome this issue without being tech savvy. Generally what is happening in an area where a lot of people have gathered is an overload on the cell tower. But usually this is only on a particular band. Mainly LTE / 4G. What you need to do is switch your phone to airplane mode. This saves battery and immediately stop your phone from searching or attempting to upload your posts, text etc.
Since LTE is the fastest and most common cellular band it will also quickly become unusable the first
Carriers use different frequencies for different generations of cellular technology. Since the vast majority of people have phones that support 4G / LTE (the fastest available now) this network will get clogged first, But legacy networks on different spectrums are indifferent to congestion on the LTE network. Meaning that you connect to these "old school networks" and skate all you voice/data through.
How to do this depends a lot on the phone you have.
Android users You will have an easier time doing this especially if they are using a rooted or unlocked phone. Phones with carrier installed bloatware may have these settings disabled.
Disable your LTE/4G…Again it depends on your phone as to how you go about doing this.
Settings -> Mobile Networks -> Mobile Data.
Settings -> Mobile Networks -> Network Mode.
Settings -> Mobile Networks -> Network Mode.
LTE/3G/2G
3G/2G
3G only
2G only
IPhone users. Go to: Setting -> mobile data (Cellular) -> mobile data options -> enable 4G (LTE) -> off
Outside the US: Cellular -> Cellular data options -> Enable LTE -> off
If you're on an iPhone turn off iMessenger and use regular old SMS – You can long press on an iMessage bubble and choose "send as text message" from the context menu.
Lastly you can download FireChat:
Firechat is an app the lets you communicate in an Ad-Hock network with other phones in the general area. This does not require any mobile or cell network or internet to send messages. You and anyone that you want to talk to just need to have the app installed.