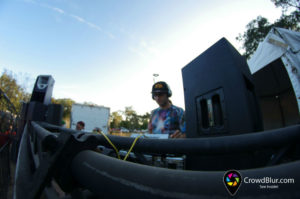 We arriving at the Zen Awakening festival we were not allowed in the gates. It was roughly midnight. The location is in a rural part of central Florida near Wildwood. The reason we arrived so late was that fact that they had the wrong location on their website. In fact finding the correct location was a scavenger hunt in of itself. I don't have to tell you how irritated I get when I am lost for no reason wasting time and gas instead of settling in at a festival. We weren't the only ones stuck outside the gate. In fact there was approx 30 others stuck in front of the gate as cars zipped past along this rural 2 lane highway.
Later on we would find out that the Wildwood police had shut everything down at midnight. It turns out that "The Villages" a large retirement community was able to hear some of the music and therefore  lodged a complaint that effectively shut shit down. The venue itself was a poor selection. It is a mudding venue where the locals bring their off road vehicle to ride trails and mud in the pits. This meant that the terrain was not conducive to people walking. TI was muddy, if our vehicle was not 4WD we would have definitely gotten stuck. Oh and did I mention that they ran out of bracelets…wtf.
So Day 1 was spent driving an additional 2 hours because they never provided the correct info, then camping at the gate until they decided to let people in. Paying full price to enter even though we were screwed out of a day. Getting a cheap club paper sticker on the wrist because they didn't order enough bracelets and missing a few of the artists that we came to see like Ployd.
Day 2 – A lot of yoga workshops going on, decent vendor selling everything from Kratom tea to handmade jewelry. There were also lots of food vendors that provided decent grub even though I had plenty of food. I did try a chicken kabob and it was on point. Apparently the organizers waited until the second day before deciding to setup tents for glamping displacing a number of campers who would be settling in again for the 3rd time. This was the point where an executive decision was made to leave early. At this point we missed the artists we came to see because of the wrong address listed on the website, we weren't let in upon arrival, we were overcharged, and now the attendees are being herded around like cattle because they waited until the second day to set up glamping.
Zen is a smaller more intimate festival. It's nothing like any previous festival we have attended and seemed to have mostly local attendees and those from out of town were only a few hours away. If your into yagoa with strangers, live locally or want a festival to bring your kids to then Zen could be a fit for you.
TL;DR The Zen awakening festival is great for local families with kids and Yoga fans. Left early after camping one night at the gate.